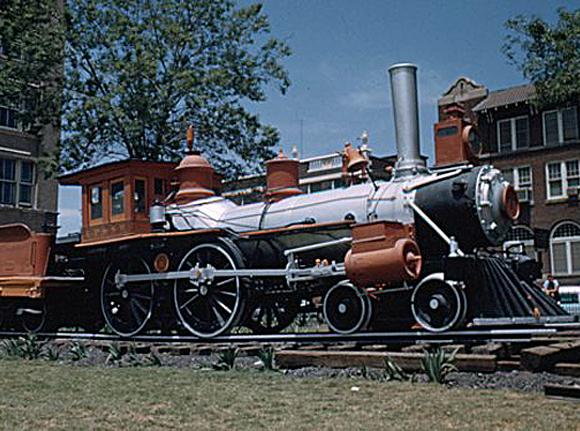 Photo Credit: R. Gerald
The Restoration of Locomotive Number 1
For over 40 years, the Centennial Museum had been host to a 19th Century 4-4-0 locomotive, known locally as Engine No. 1. This tour takes you from the original downtown location through the 1960 move to the Centennial Museum and then to the removal for restoration and eventual display near Downtown El Paso's Union Depot.
Built in 1857 by the Breese & Kneeland Company, Locomotive No. 1 worked in Wisconsin until the Milwaukee Railroad sold it to what would soon become the El Paso & Southwestern Railroad, the E.P. & S.W.'s first locomotive. It then ran between Bisbee and Fairbank, Arizona, until it was retired in 1903. Fairbank, AZ is now a "ghost town". Around 1909, Locomotive No. 1 was overhauled, painted, and put on display in Downtown El Paso at the intersection of Stanton and Franklin streets.
Locomotive Number 1 ran for the last time in November-December 1938, used by MGM in the film "Let Freedom Ring" filmed in Wyonola, AZ.