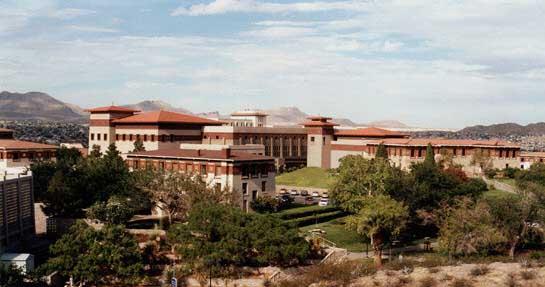 Photo Credit: University Communications
Situated between the Sierra Juárez Mountains of Mexico and the Franklin Mountains of the United States, The University of Texas at El Paso houses seven colleges, the School of Nursing and numerous research institutes. Offering 81 undergraduate, 65 master's and 16 doctoral degrees, UTEP is dedicated to serving the academic needs of the Paso del Norte region.
The Texas State School of Mines and Metallurgy was established on April 16, 1913, with the signing of Senate Bill 183 by Governor O. B. Colquitt. The school opened its doors on September 23rd, 1914, with an initial enrollment of 27. A name change in 1949 transformed it to Texas Western College before finally coming to be known as The University of Texas at El Paso (UTEP) in 1967.
The main campus covers 420 acres and consists of 90 buildings, the majority of which follow the Bhutanese architectural style.